Soy Sauce
Advertisement

Real & Healthy Chinese Cooking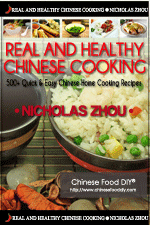 Nicholas Zhou's cookbook "Real & Healthy Chinese Cooking" -

500+ low carb and low fat recipes

with 170+ colorful pictures. Based on a master chef's 40 years of cooking practice and 4 years of writing and research. All the secret copy cat recipes in ONE cookbook.
Click here now!

or
Read the Review

Soy sauce is believed to have originated in China, but is today found in many different Asian cuisines. There are many varieties of soy sauce, some of which are used when cooking, others as condiment, and some varieties for both purposes. Soy sauce is usually made from soy beans, roasted grain, water and salt



Your Comments

Please share your comments on this page:




These web sites may also be of interest:

Related pages on this web site:

Food products listed on this site, are offered by Amazon.com (and not the owners/operators of this website). Details and availability of such products may vary from time-to-time, and many/all such items may only be available to people in particular geographic locations (for example, only available within the USA, or within particular areas in the USA).

Product label and/or packaging may contain more and/or different information from that shown on this website and/or Amazon.com's website.
Always read labels, warnings, and directions before consuming any product.


If considering purchasing any product from Amazon.com, please read any applicable legal Terms & Conditions or disclaimers on Amazon.com's website before purchasing and/or consuming.



Soy Sauce Food, Ingredients & Other Products


IMPORTANT: Please read the "Important Notice" above, before reviewing these items.

Disclosure: Products details and descriptions provided by Amazon.com. Our company may receive a payment if you purchase products from them after following a link from this website.


Kikkoman
Grocery



Lowest New Price: $9.99 ($0.30 / Fl Oz)*
In Stock*
*(As of 20:49 Pacific 1 Dec 2023 More Info)


Click Here
Description:
Kikkoman Japan Made Soy Sauce, 33.8 Ounce

Manufacturer: Kikkoman
Brand: Kikkoman
UPC: 786173862293
EAN: 0786173862293

Details:

Product Category: Grocery

Physical Description:Features:

Product Type:Sauce
Item Package Dimension:7.797 cm L X7.899 cm W X26.797 cm H
Item Package Weight:1.202 kg
Country Of Origin: United States

Click here for more information
Kikkoman
Released: October 4th, 2013
Naturally Brewed Soy Sauce Grocery



Lowest New Price: $28.20 ($0.06 / Fl Oz)*
In Stock*
*(As of 20:49 Pacific 1 Dec 2023 More Info)


Click Here
Description:
Kikkoman - Traditionally Brewed Soy Sauce, Organic Soy Sauce, All Purpose Seasoning, No Added Preservatives - 1 Gallon (Pack of 1)

Manufacturer: Kikkoman
Brand: Kikkoman
UPC: 041390001710
EAN: 0041390001710

Details:

Product Category: Grocery
Publication Date: October 4th, 2013
Release Date: October 4th, 2013

Physical Description:

Size: 12.0 inches by 5.5 inches by 7.0 inches
Weight: 9.89 pounds
Color: Naturally Brewed Soy Sauce

Features:

INGREDIENTS: Kikkoman is a traditionally brewed Soy Sauce prepared from water, soybeans, wheat, and salt. Its complex flavor, delicate aroma, and appealing reddish-brown color complement and intensify the natural flavor, aroma, and color of foods without masking or overpowering
VERSATILE: Adds depth and appetite appeal to all kinds of menu items-Asian cuisines like sashimi, tofu, sushi, and beyond. Marinade or baste meats, poultry, seafood, and vegetables as a rich flavor enhancer
AUTHENTIC FLAVOR: Made in the U.S. to exacting quality standards using a centuries-old fermentation process. Kikkoman Traditionally Brewed Soy sauce contains No Artificial flavors and is Non-Fat. There are no chemical seasonings used, simply genuine flavor
BRAND POWER: As a tabletop condiment, helps build your quality image. Add an impressive look to your kitchen with simple styling and current minimalist tonality. Taste the difference and experience America's #1 soy sauce*. (*Based on U.S. sales data during the 52-week period ending 4/23/22)
PRODUCT DETAILS: Kikkoman Traditionally Brewed Soy Sauce 1 Gallon Bottle is 5.16 x 6.7 x 11.28 inches in size and weights 9.89 pounds. It simplifies home cooking by providing a selection of real Asian sauces. It's an easy-to-use and comes with a leak-proof bottle

Click here for more information
Lee Kum Kee
Grocery (0 pages)



Lowest New Price: $7.69 ($0.46 / Fl Oz)*
In Stock*
*(As of 20:49 Pacific 1 Dec 2023 More Info)


Click Here
Description:
Lee Kum Kee Premium Dark Soy Sauce, 16.9 Ounces

Brand: Lee Kum Kee
Model: 5682
UPC: 078895126389
EANs: 0078895126389, 4260588741658
PartNumber: 5682

Details:

Product Category: Grocery
Number of Pages: 0

Physical Description:

Size: 2.70078739882 Inches by 2.70078739882 Inches by 9.7244094389 Inches
Weight: 1.10231131 pounds

Click here for more information
La Choy
Grocery



Lowest New Price: $8.27 ($0.55 / Ounce)*
In Stock*
*(As of 20:49 Pacific 1 Dec 2023 More Info)


Click Here
Description:
La Choy Soy Sauce, 15 oz

Manufacturer: Conagra
Brand: La Choy
Model: 044300125117
UPC: 044300125117
EAN: 0044300125117
PartNumber: 12511

Details:

Product Category: Grocery

Physical Description:

Size: 8.1 inches by 2.8 inches by 3.0 inches
Weight: 1.85 pounds

Features:

Add a dash of Asian-inspired flavor to your favorite meals with La Choy Soy Sauce
La Choy Soy Sauce is an essential, all-purpose sauce that adds a burst of authentic Asian flavor to a variety of dishes
Sprinkle La Choy Soy Sauce over rice, or add it to a simple stir fry for a quick, delicious meal
Inspired by traditional Asian cuisine, La Choy Soy Sauce combines distinctive flavor with convenience
Each 15 Ounce bottle of La Choy Soy Sauce contains 10 calories and 0 grams of fat per serving.

Click here for more information
365 by Whole Foods Market
Grocery



Lowest New Price: $4.69 ($0.47 / Ounce)*
In Stock*
*(As of 20:49 Pacific 1 Dec 2023 More Info)


Click Here
Description:
365 by Whole Foods Market, Organic Shoyu Soy Sauce Reduced Sodium, 10 Ounce

Manufacturer: Amazon.com Services LLC.
Brand: 365 by Whole Foods Market
UPC: 099482447632
EAN: 0099482447632
PartNumber: 0099482447632

Details:

Product Category: Grocery

Physical Description:

Size: 7.95 Inches by 2.3 Inches by 2.35 Inches
Weight: 0.63 pounds

Features:

34% Less Sodium Than Our Organic Soy Sauce
Our Organic Soy Sauce Contains 980Mg Sodium Per Serving And Our Organic Reduced Sodium Soy Sauce Contains 650Mg Sodium Per Serving.
Far Free See Nutrition Information For Sodium Content
365 by Whole Foods Market products give you that dance-down-the-aisles feeling, virtual aisles too! Our huge range of choices with premium ingredients at prices you can get down with makes grocery shopping so much more than tossing the basics in your cart.
An Amazon brand

Click here for more information
San-J
Misc.



List Price: $12.10 ($0.60 / Fl Oz)*
Lowest New Price: $8.99 ($0.45 / Fl Oz)*
In Stock*
*(As of 20:49 Pacific 1 Dec 2023 More Info)


Click Here
Description:
San-J Tamari Soy Sauce - Gluten Free Soy Sauce, Tamari Sauce, Brewed Soy Sauce, Vegan, Kosher, Non-GMO, No Artificial Preservatives, Made with 100% Soy - 10 Fl Oz, 2-Pack

Manufacturer: San-J
Brand: San-J
UPC: 045905399958
EAN: 0045905399958

Details:Features:

DELICIOUS SOY SAUCE FOR ALL - Our Tamari Soy Sauce accommodates different lifestyles. Whether your diet is gluten-free, vegan, or Kosher, it is a soy sauce for all without sacrificing flavor!
BREWED SOY SAUCE - Made with 100% soy and no wheat, our fermentation process gives San-J Gluten-Free Tamari Soy Sauce a richer, more complex taste with more umami than typical brewed soy sauce
FLAVOR ENHANCER - Use Tamari as a marinade & in stir-fry or simply dip your sushi, seafood, or veggies. Or add our Tamari gluten-free soy sauce to soups, sauces, & dressings. Contains 18 amino acids
INGREDIENTS - Our Tamari is brewed and fermented with simple non-GMO ingredients: water, soybeans, salt and a little alcohol to preserve freshness. No artificial preservatives, flavors or color added
ABOUT US - Our mission is to bring a smile to every table. Our desire to reinvigorate kitchens everywhere extends to meet special diet needs, including gluten-free, dairy-free, and plant-based diet

Click here for more information
Jogoto



Lowest New Price: $14.95 ($0.75 / Fl Oz)*
In Stock*
*(As of 20:49 Pacific 1 Dec 2023 More Info)


Click Here
Description:
Kikkoman Soy Sauce, 10 Fl Oz (Pack of 2)

Manufacturer: Kikkoman
Brand: Jogoto

Physical Description:Features:

All-purpose Kikkoman Soy Sauce is traditionally brewed from water, soybeans, wheat and salt.
Like fine wine, Kikkoman Soy Sauce is aged for several months to develop its characteristic rich and mellow umami taste, appetizing aroma and distinctive reddish-brown color.
Besides using it in traditional Asian dishes, try it in mainstream American foods, classic Mediterranean dishes or Caribbean cuisine.
10 Fl Oz, comes in pack of 2

Click here for more information