Oyster Sauce
Advertisement

Real & Healthy Chinese Cooking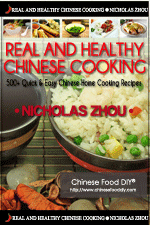 Nicholas Zhou's cookbook "Real & Healthy Chinese Cooking" -

500+ low carb and low fat recipes

with 170+ colorful pictures. Based on a master chef's 40 years of cooking practice and 4 years of writing and research. All the secret copy cat recipes in ONE cookbook.
Click here now!

or
Read the Review

Oyster sauce is found in Cambodian cuisine, Chinese cuisine, Filipino cuisine and Thai cuisine. It is a thick cooking sauce containing oyster extract, although the amount of extract in the sauce can vary quite widely between different brands and recipes of the sauce.



Your Comments

Please share your comments on this page:




These web sites may also be of interest:

Related pages on this web site:

Food products listed on this site, are offered by Amazon.com (and not the owners/operators of this website). Details and availability of such products may vary from time-to-time, and many/all such items may only be available to people in particular geographic locations (for example, only available within the USA, or within particular areas in the USA).

Product label and/or packaging may contain more and/or different information from that shown on this website and/or Amazon.com's website.
Always read labels, warnings, and directions before consuming any product.


If considering purchasing any product from Amazon.com, please read any applicable legal Terms & Conditions or disclaimers on Amazon.com's website before purchasing and/or consuming.



Oyster Sauce Food, Ingredients & Other Products


IMPORTANT: Please read the "Important Notice" above, before reviewing these items.

Disclosure: Products details and descriptions provided by Amazon.com. Our company may receive a payment if you purchase products from them after following a link from this website.


Lee Kum Kee
Released: May 11th, 2023
Grocery (0 pages)



List Price: $9.99 ($0.56 / Ounce)*
Lowest New Price: $9.53 ($0.53 / Ounce)*
In Stock*
*(As of 01:44 Pacific 2 Dec 2023 More Info)


Click Here
Description:
Lee Kum Kee Premium Oyster Flavored Sauce 18 Ounce (1 Pack)

Manufacturer: Lee Kum Kee
Brand: Lee Kum Kee
UPC: 078895100020
EANs: 0078895100020, 5052605054631
PartNumber: 206018

Details:

Product Category: Grocery
Number of Pages: 0
Publication Date: May 11th, 2023
Release Date: May 11th, 2023

Physical Description:

Size: 9.78 inches by 2.49 inches by 2.49 inches
Weight: 1.1243575362 pounds

Features:

Item Package Length: 7.112cm
Item Package Width: 7.366cm
Item Package Height: 33.274cm
Item Package Weight: 0.907kg

Click here for more information
Maekrua
Original Version Misc.



Lowest New Price: $8.94 ($0.88 / Fl Oz)*
In Stock*
*(As of 01:44 Pacific 2 Dec 2023 More Info)


Click Here
Description:
Thai Oyster Sauce Maekrua Brand - Thai Original.

Manufacturer: Maekrua
Brand: Maekrua
EANs: 8931270729853, 8859276923214, 8934567836586
PartNumber: CH-FOOD-UK-3712

Details:Physical Description:Features:

Thai Oyster Sauce
Ideal for all seasoning purposes
300cc
ADD FLAVOR TO FOODS.
Product of Thailand

Click here for more information
Lee Kum Kee
Grocery



Lowest New Price: $8.78 ($0.98 / Ounce)*
In Stock*
*(As of 01:44 Pacific 2 Dec 2023 More Info)


Click Here
Description:
Lee Kum Lee Panda Brand Oyster Sauce, 9 oz

Manufacturer: Lee Kum Kee
Brand: Lee Kum Kee
Model: 078895300017
UPCs: 885912324860, 078895300017, 079184243800
EANs: 5054186234884, 0078895300017, 0079184243800, 5054809118867, 0885912324860
PartNumber: 078895300017

Details:

Product Category: Grocery

Physical Description:

Size: 2.05 inches by 2.05 inches by 7.5 inches
Weight: 0.5621787681 pounds

Features:

Lee Kum Kee Minced Garlic is a convenient and perfect substitute for fresh garlic in stir frying, marinating, steaming, and all kinds of cooking
Best quality product
Non-GMO, Effervesce combines Authenticity with Elegance and Prestige
Please be aware that unless expressly indicated otherwise, product packaging may vary from what is shown on this listing; We recommend that you do not rely solely on the information presented on our listing; Please always read the labels, warning and directions provided before using or consuming the product

Click here for more information
Maekrua
Misc.



List Price: $9.99 ($0.49 / Fl Oz)*
Lowest New Price: $9.49 ($0.47 / Fl Oz)*
In Stock*
*(As of 01:44 Pacific 2 Dec 2023 More Info)


Click Here
Description:
Maekrua Oyster Sauce 600 millilitres

Manufacturer: Yulo Toys Inc
Brand: Maekrua
Model: Ven_FD28A-130
EANs: 8850038200000, 4250153900665, 8850038400080, 8850213107001
PartNumber: Ven_FD28A-130

Details:Physical Description:

Size: 11.5748031378 inches by 2.9133858238 inches by 2.9133858238 inches
Weight: 1.322773572 pounds

Click here for more information
DIXIS



Lowest New Price: $9.99 ($0.56 / Ounce)*
In Stock*
*(As of 01:44 Pacific 2 Dec 2023 More Info)


Click Here
Description:
Lee Kum Kee Panda Brand Oyster Sauce Bottle, 510 g

Manufacturer: DIXIS
Brand: DIXIS
UPC: 731851710984
EAN: 0731851710984

Physical Description:

Weight: 1.1243575362 pounds

Features:

Experience the authentic and irresistible flavor of Lee Kum Kee Panda Brand Oyster Sauce, a true culinary treasure loved by chefs and home cooks alike. Crafted with care using premium quality oysters, this rich and savory sauce is a staple in Chinese cuisine and adds a delectable umami kick to your dishes.
Premium Quality Oysters: Our Panda Brand Oyster Sauce is made from the finest oysters, handpicked for their exceptional taste and umami goodness. The careful selection of these quality ingredients ensures a superior sauce that enhances the taste of any dish it touches.
Unmatched Flavor: With its perfectly balanced blend of oyster essence, soy sauce, and seasonings, this sauce delivers a mouthwatering depth of flavor that elevates stir-fries, marinades, and various Asian dishes to new heights. Its umami-rich profile makes it a versatile and indispensable condiment in your kitchen.
Culinary Versatility: The Lee Kum Kee Panda Brand Oyster Sauce is a must-have for both professional chefs and home cooks. Whether you're preparing stir-fried vegetables, marinating meats, or creating savory sauces, this sauce adds a distinctive taste that brings out the best in your cooking.
Convenient Packaging: Our oyster sauce comes in a convenient 510g bottle, ensuring you have an ample supply to explore various culinary creations. The easy-to-use squeeze bottle allows for precise pouring and keeps your kitchen mess-free.
Trusted Heritage: With over a century of culinary expertise, Lee Kum Kee is a renowned name in the culinary world. Our Panda Brand Oyster Sauce continues the tradition of delivering premium-quality sauces that have been cherished by generations.
Discover the secret to creating mouthwatering Asian-inspired dishes with Lee Kum Kee Panda Brand Oyster Sauce. Elevate your cooking to a whole new level of deliciousness with this beloved and authentic oyster sauce, and unleash the flavors that will delight your family, friends, and guests. Whether you're a passionate home cook or a professional chef, this sauce is a must-have in your pantry for bringing out the best in your culinary creations.

Click here for more information
Kikkoman
Released: May 10th, 2014
Grocery



Lowest New Price: $9.99 ($0.79 / Ounce)*
In Stock*
*(As of 01:44 Pacific 2 Dec 2023 More Info)


Click Here
Description:
Kikkoman Oyster Flavored Sauce-Red Label, 12.6 Ounce

Manufacturer: Kikkoman
Brand: Kikkoman
UPC: 041390009020
EAN: 0041390009020
PartNumber: 46740

Details:

Product Category: Grocery
Publication Date: May 10th, 2014
Release Date: May 10th, 2014

Physical Description:

Size: 7.0 inches by 2.0 inches by 2.0 inches
Weight: 1.1904962148 pounds

Features:

Kikkoman is the trusted brand for high-quality Asian seasonings
Made in America

Click here for more information
Wok Mei
Grocery



Lowest New Price: $10.99 ($10.99 / Count)*
In Stock*
*(As of 01:44 Pacific 2 Dec 2023 More Info)


Click Here
Description:
WOK MEI Oyster Sauce, 8 OZ

Manufacturer: Wok Mei
Brand: Wok Mei
UPC: 087586818816
EAN: 0087586818816

Details:

Product Category: Grocery

Physical Description:Features:

WOK MEI GLUTEN FREE OYSTER SAUCE - Our gf sauce is carefully made with key ingredients and a great addition to any meal. Great for anyone who is gluten intolerant.
GREAT FOR MARINADES AND STIR FRY - Normally used in Chinese, Thai, Vietnamese cooking. Ideal for flavoring meats and vegetables. Use in stir frys like chow mein.
FLAVORFUL CLASSIC ASIAN SAUCE - Essential sauce that can be added to your next homemade dish.
NO REFINED SUGARS / STARCHES / MSG - Wok Mei doesnt use any modified starches or refined sugars in our sauces.
LOWER IN SALT than all other Oyster Sauces. MADE IN USA. 8oz Size

Click here for more information
Kikkoman
Grocery



Lowest New Price: $9.54 ($0.76 / Ounce)*
In Stock*
*(As of 01:44 Pacific 2 Dec 2023 More Info)


Click Here
Description:
Kikkoman Oyster Sauce, 12.6 Ounce

Manufacturer: Kikkoman USA
Brand: Kikkoman
UPC: 041390009044
EAN: 0041390009044
PartNumber: 5642

Details:

Product Category: Grocery

Physical Description:

Size: 7.25 inches by 2.43 Inches by 2.43 Inches
Weight: 0.7875 pounds

Features:

Item Package Length: 5.842cm
Item Package Width: 6.096cm
Item Package Height: 19.05cm
Item Package Weight: 12.6 Ounce

Click here for more information