How to Cook dishes from China
Advertisement

Real & Healthy Chinese Cooking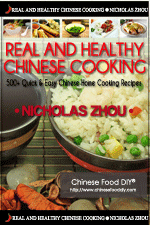 Nicholas Zhou's cookbook "Real & Healthy Chinese Cooking" -

500+ low carb and low fat recipes

with 170+ colorful pictures. Based on a master chef's 40 years of cooking practice and 4 years of writing and research. All the secret copy cat recipes in ONE cookbook.
Click here now!

or
Read the Review

China is a very large country (the 3rd or 4th largest in area depending on the method of calculation used and what is included), with the largest population of any country in the world. Each region of China has its own distinctive culinary style and flavors, the regions being, Anhui ("Hui"), Cantonese (Yue"), Fujian ("Min"), Hunan ("Xiang"), Jiangsu ("Su" or "Yang"), Shandong ("Lu"), Szechuan ("Chuan") and Zhejiang ("Zhe"). There is also of course a large population of people of Chinese descent in many other countries, and these communities have developed both new dishes and variants on pre-existing dishes, by adapating Chinese cooking techniques to local tastes and ingredients.

In general, Chinese meals consist of two main elements:
Main food (Mandarin: Zhushi) - Noodles, rice or steamed buns ("mantou").



Some of the most popular Chinese recipes and dishes include:
Century egg - This is a method of preparing chicken, duck or quail eggs. The eggs are preserved for several weeks or months in ash, clay, lime, salt, and rice straw. As a result of chemical reactions caused in the egg during this processing, the yolk of egg becomes dark green with a sulphur-ammonia smell, and the white becomes a brown transparent jelly. Century eggs can be eaten on their own as a side dish, or they can used in an ingredient in other dishes such as porridge (congee), omelettes, etc.


Congee - A Chinese version of porridge. It is usually made from rice, but it can also be made from barley, cornmeal, millet or sorghum.


Dumplings - Steamed ("jiaozi"), fried ("guotie"), or boiled ("shuijiao") dumplings. They can contain vegetables, meat, or meat and vegetables.


Egg roll - Chopped vegetables, meat, and sometimes noodles, wrapped in dough. The dough is then dipped in an egg wash, and finally deep-fried. Egg rolls are often eaten as appetizers, are sometimes called "spring rolls". In the United Kingdom, the dish is sometimes known as "pancake roll".





General Tso's chicken - This dish is practically unknown in China itself, but is very popular in Chinese restaurants in the United States and Canada. It is deep fried chicken in a sweet and spicy sauce.


Kung Po (also known "Kung Pao") chicken - Spicy chicken. In China, the dish is made with Sichuan peppercorns, Shaoxing wine, and unroasted cashew nuts or peanuts. In the United States and Europe, the dish is often westernized using locally available ingredients and bell peppers.





Peking duck - This dish originates from Beijing in China. It is made by glazing a duck in syrup and then roasting it, although in in the United Kingdom, the dish is usually known as "crispy aromatic duck" and is prepared using aromatic spices including five-spice powder, and by frying the duck instead of roasting. The key to eating this dish, is how it is served - the duck is carved in front of diners, and then eaten with steamed pancakes (Mandarin: pinyin), scallions and plum sauce.


Wonton soup - Wontons are dumplings. There are many different varieties found in different Chinese cuisines. In the North American Chinese cuisine, wontons are often served in a clear broth soup.





Xiaolongbao - Steamed buns containing meat soup, seafood or vegetables. In the case of the meat soup containing variety, they are prepared by placing meat gelatin inside the bun before steaming, and the heat from the steam in the cooking process turns the gelatin into soup. Xiaolongbao can be made from raised or unraised flour - the version with raised flour are common throughout China (and are sometimes known as "baozi"), whereas the version made from unraised flour are most often eaten in southern China.





Zongzi - Glutinous rice and a filling, wrapped in bamboo leaves and then boiled or steamed.


Your Comments

Please share your comments on this page:





These web sites may also be of interest:

Related pages on this web site:



Chinese Recipes Downloads & Web Sites


Disclosure: Products details and descriptions provided by vendor and/or based on publicly available information. Our company may receive a payment if you purchase products after following a link from this website.

Note: Some vendors listed below may offer multiple payment options. ClickBank guarantee only applies to purchases made via ClickBank. When purchasing, please review the conditions of sale on the bottom of the ClickBank secure order form for detailed and most recent information.




Available to purchase from ClickBank:
Click here for access


Contains all the recipes that everyone needs for healthy and balanced eating. This unique 530-page cookbook contains:

500+ low carb and low fat Chinese recipes in 15 categories
170+ colorful Chinese food photos
A master chef's 40 years of cooking experience
Master chef Nicholas Zhou's 4 years of research on healthy eating
All the secret recipes in your favorite Chinese restaurants
Hundreds of killer cooking tips and techniques used by professional Chinese chefs
Insider secrets how 12,800 people worldwide improve their health by cooking healthy food
Recipes and tips for healthy and balanced eating on a daily basis
Quick and easy meal plans in 15 to 45 minutes
Amazing party recipes in 40 minutes for over 10 people

...and this is just the tip of the iceberg!

The 530-page cookbook can be downloaded in 3 minutes!


Available to purchase from ClickBank:
Click here for access


The Healthy, Natural, Gluten-free Chinese Vegetarian Recipes, With A Lot Of Photos To Showing The Steps Clearly.


Available to purchase from ClickBank:
Click here for access


Quick and Easy Chinese Vegetarian Cooking is your complete Chinese cookbook guide that shows you how to cook delicious and healthy Chinese vegetarian recipes that will spice up your current diet, and can help to improve your diet and health.



Disclosure: Products details and descriptions provided by Amazon.com. Our company may receive a payment if you purchase products from them after following a link from this website.